A few days ago, a good news came from the China National Accreditation Service for Conformity Assessment (CNAS). The Wenzhou Footwear Laboratory participated in the "CNAST0588 Longitudinal Stiffness Test of Leather Shoes" capability organized by its organization and carried out by the China Leather and Footwear Industry Research Institute. Satisfactory result. This is the second time since the establishment of the laboratory through the ability of CNAS organization to verify, thus further consolidating its technical strength.

In order to successfully pass this proficiency testing project, the laboratory attaches great importance and actively organizes technical experts to make adequate preparations to analyze various factors that influence the test results, and to reduce the impact factor as much as possible during the testing process. Smallest to lowest. Because the test of bending rigidity of man-made flexures has a large influence factor on man-made operation, the entire testing process is a manual process of man. Only when each link is the most accurate, can accurate results be obtained. A slight negligence will result in deviation of results. Abnormal, it is prone to wrong results.

Leather shoe hook is an important part of leather shoes, is an important technical indicator to detect the quality of leather shoes. It is installed between the outer sole and the midsole of the sole (waist window) of the leather shoes. It is the backbone of the shoe and maintains the curvature of the sole. And stabilize the heel and support the weight of the body. Every male and female leather shoe has a hook (except for flat shoes and wedge heels), especially for middle and high heels. The material is generally made of manganese steel, and a few are made of resin materials. The standard stipulates the performance indexes such as longitudinal bending stiffness and hardness. There are also some enterprises that use inferior iron sheets as a means to reduce the cost of products. Generally, when picking a shoe, a hand can be used to press the inner sole of the shoe moderately, so as not to be soft and deformable. Well, if you wear it, you find that the heel is sloppy (not nails are not firm) and your feet are empty or uncomfortable. Check whether the heart is broken.
Assembly Table with aluminum frame is our hot sale prodcuts in assembly table series. The frame of the Assembly Table With Aluminum is aluminum profiles. There are many models of the aluminum profiles for the assembly table with aluminum, like 40*40, 40*60... The table top of the assembly table with aluminum frame is polywood with ESD PVC cover or the stainless steel sheet. The assembly table with aluminum can be designed with castors, then the assembly table can be moved by manual easily. The size of the asssembly table with aluminum frame can be any dimensions you like. There is no MOQ for the assembly table with aluminum frame.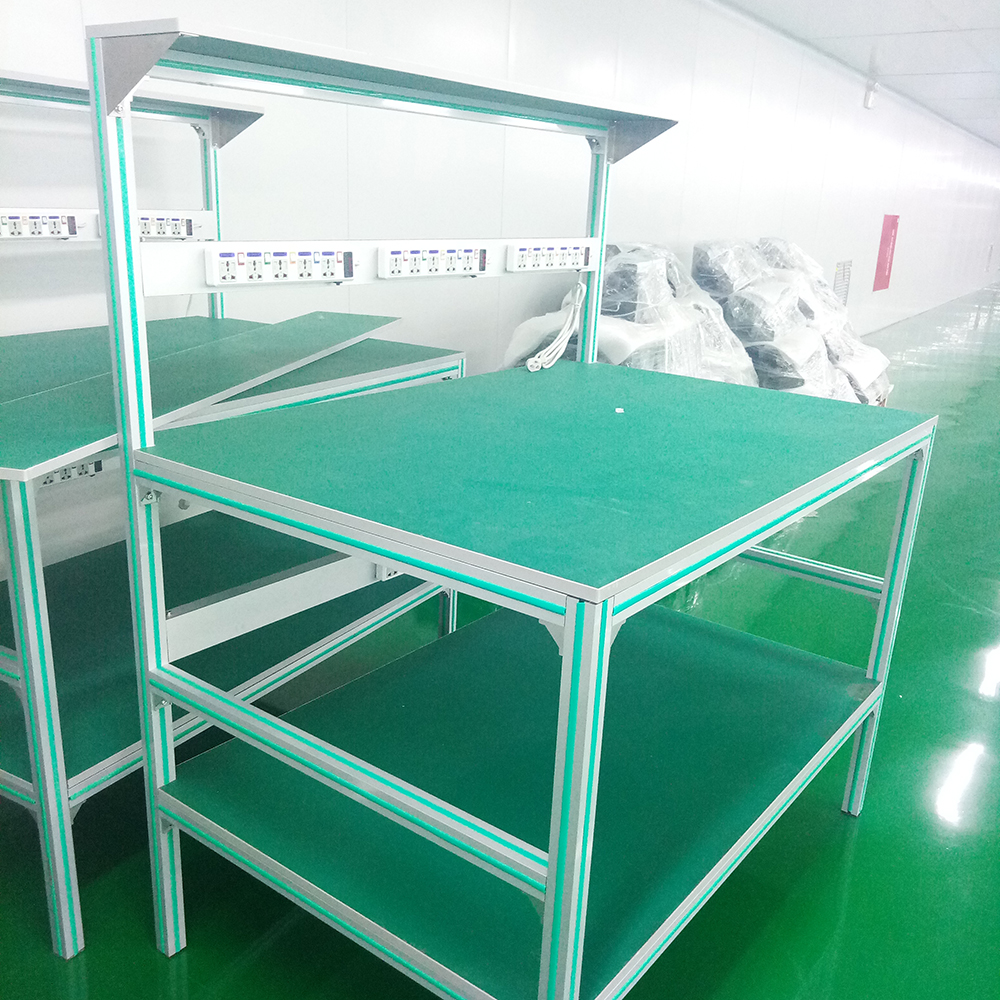 Assembly Table With Aluminum
Assembly Table With Aluminum,Aluminum Esd Workbench,Aluminum Esd Work Desk,Aluminum Esd Work Table
Shenzhen Hongdali Machinery Co.,Ltd , http://www.conveyortop.com