According to Rolls-Royce, the company has received an order from the Cochin Shipyard in India to provide 60 Kamewa sprays for 20 50-meter high-speed patrol boats being built by the Indian Coast Guard. Water propeller. The contract involves the supply of 71S3np waterjets (3 per unit) and associated equipment, including control systems with enhanced handling.

According to Rolls-Royce, the company's Kamewa S3 series of waterjets are designed to increase the speed of patrol boats, improve acceleration and increase efficiency, enabling them to sail in shallow waters. The Kamewa S3 series of waterjets can increase the speed of patrol boats and have better maneuverability than conventional propellers.
At present, 86 Luo Luo's waterjet propellers are in service with the Indian Coast Guard, while Luo Luo also provides equipment such as CPP and stabilizing fins.
High Speed CNC Drilling Machine for Plate

1.1 This machine aims to drilling holes on the metal plate of building steel structure, power iron tower and petrochemical equipments. It adopts gantry type structure. The axis X, Y and Z are drove by servo motor through precise ball guide screw. It positions automatically, precisely and quickly and finishes the processing of drilling automatically. Therefore, it highly improves the precision and speed. Meanwhile, it avoids repairing and scraping caused by manual position or drilling error.
1.2 The control system of this machine adopts host computer and PLC control system. The computer is installed with automatic programming software and machine monitoring software, which can convert the AUTOCAD graph file to processing program directly. It also very fast and easy, even programs it manually. The new operator without experiences of operating computer can program it in short time.
1.3 Automatic chip removal and circulation cooling system reduce the nonproductive time and labor intensity. The operator only need to load and unload work piece and change the drills.
1.4 The advanced CNC drilling power heads can automatically adjust to optimizing feeding speed and rotational speed through computer control according to different diameter of holes. This machine use Taiwan made BT50 spindle, inner cooling type, high accuracy spindle. It can use carbide drill. Machine also adopts pneumatic play knife cylinder, to make tool change more easier. The big power main spindle motor is driven by servo synchronization belt. Thus is can bear big scope of rotation speed.
1.5 This CNC Drilling Machine is designed according to the work piece features and precision requirements; it has compact form and is flexible, it meets the processing requirements better. No matter the holes are arranged as circle or straight line, it can finish the work quickly and accurately. Therefore, this machine is cost-effective choice.

The Work Table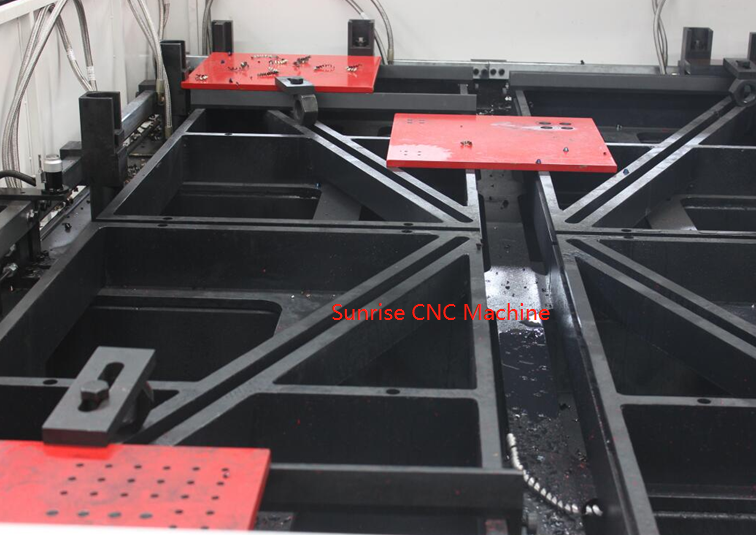 Work table, 12 movable hydraulic clamps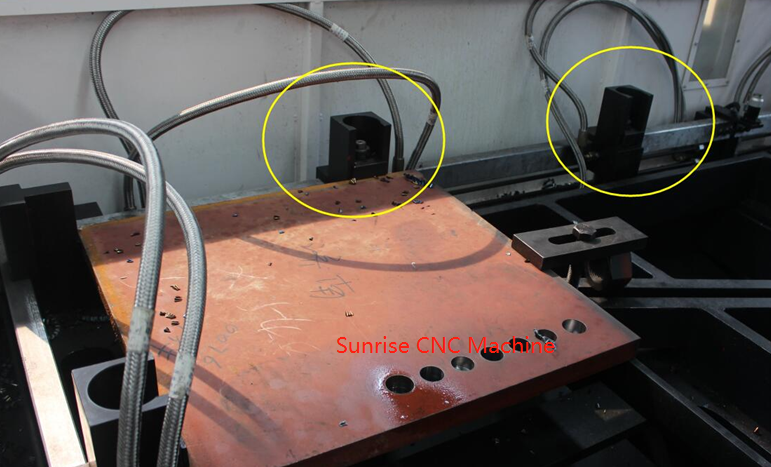 The Drilling Head (BT50 Drilling Spindle)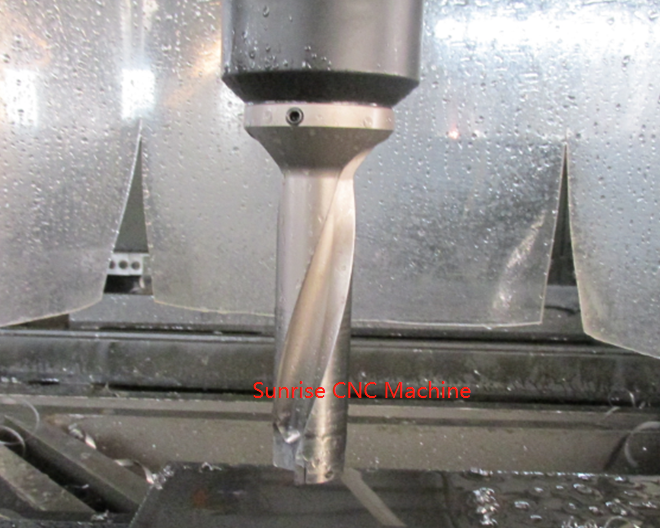 ATC Automatic Tool Change (8 pics tools)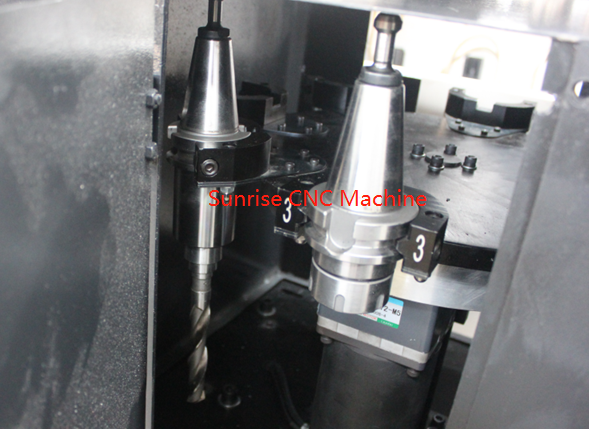 Drilling-- High speed drilling and high precision, then the production efficiency is very high. For example, how much time drill one hole, if the hole diameter is φ40, thickness is 40mm, you set the drill speed 1800 rpm, cutting speed 0.2mm/r, then the feeding speed is 1800x0.2=360mm/min, drill one hole just need 40÷360≈0.11min (that drill one hole just need 6.6s).
Inner-cooler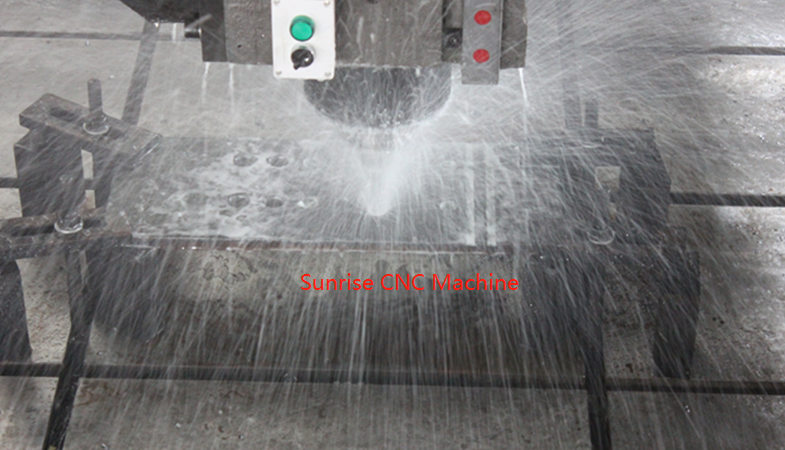 Work piece location:

Make decision of using half of work platform or the whole according to the size of processing work-pieces. Using the whole platform, the work-piece should be put on the processing position close to the clamping cylinder locating side, step two pedal switches, clamp the work-piece and start processing. Using half of work platform, the work-piece should be put on the front or back processing position close to the clamping cylinder locating side, step the corresponding pedal switch and start processing.

Rotating speed setting:

Rolling speed can be set according to diameter of dill and other relevant information. The program will calculate out the rotation speed automatically according to the dill bits diameter and cutting speed.

Feeding speed setting:

Feeding speed can be set according to drilling manual or experiences. The speed of this machine has been set according to the diameter of drill bit. Users can adjust it flexibly according to the actual use. For specific adjustment method, please refer to computer programming instruction.

Self-running operation:

When all factors meet the condition which self-running need, the "Ready" indicator light on. Put "start" button, the machine will run automatically and process work-pieces meeting requirement.

Notice:

This machine has two platforms. When one is processing, the other can be mounting and dismounting. The clamping and loosing of work-pieces is controlled by pedal switch.

It will realize continuous processing, improve efficiency and save time.



Packing & Delivery
Packing Details : Packing, this model need 1*20GP;
Delivery Details : 30-50 days after get the first payment.


1. Special logistics packaging
2. Suitable carton size
3. Fasten
4. Professional placement
5. Professional shock
6. Complete package
Our Certifications

SUNRISE is focus on quality and company's image. We win market with good quality and service. The company has already passed International Quality Management System ISO9001:2008 certification for many years and also got the CE certificate, smoothly got the title of High and New Tech Enterprises. And has more than ten own intellectual property rights and patent technology. We have own import and export right. Our products exported to Russia, South Asia, South east Asia, Middle East, South America, Africa, Australia, Eastern Europe etc.

QUALITY MAKE BRAND, HONESTY WIN MARKET!
INNOVATION PROMOTE DEVELOPMENT, HARMONY CONVERGE TALENTS.
THANKS FOR ALL CUSTOMERS BELIEVE AND CHOOSE SUNRISE CNC.
Plate Drilling Machine,Plates Drilling Machine,CNC Drilling Machine,CNC Metal Plate Drilling Machine
Shandong Sunrise CNC Machine Co., Ltd , http://www.scmcnc.com